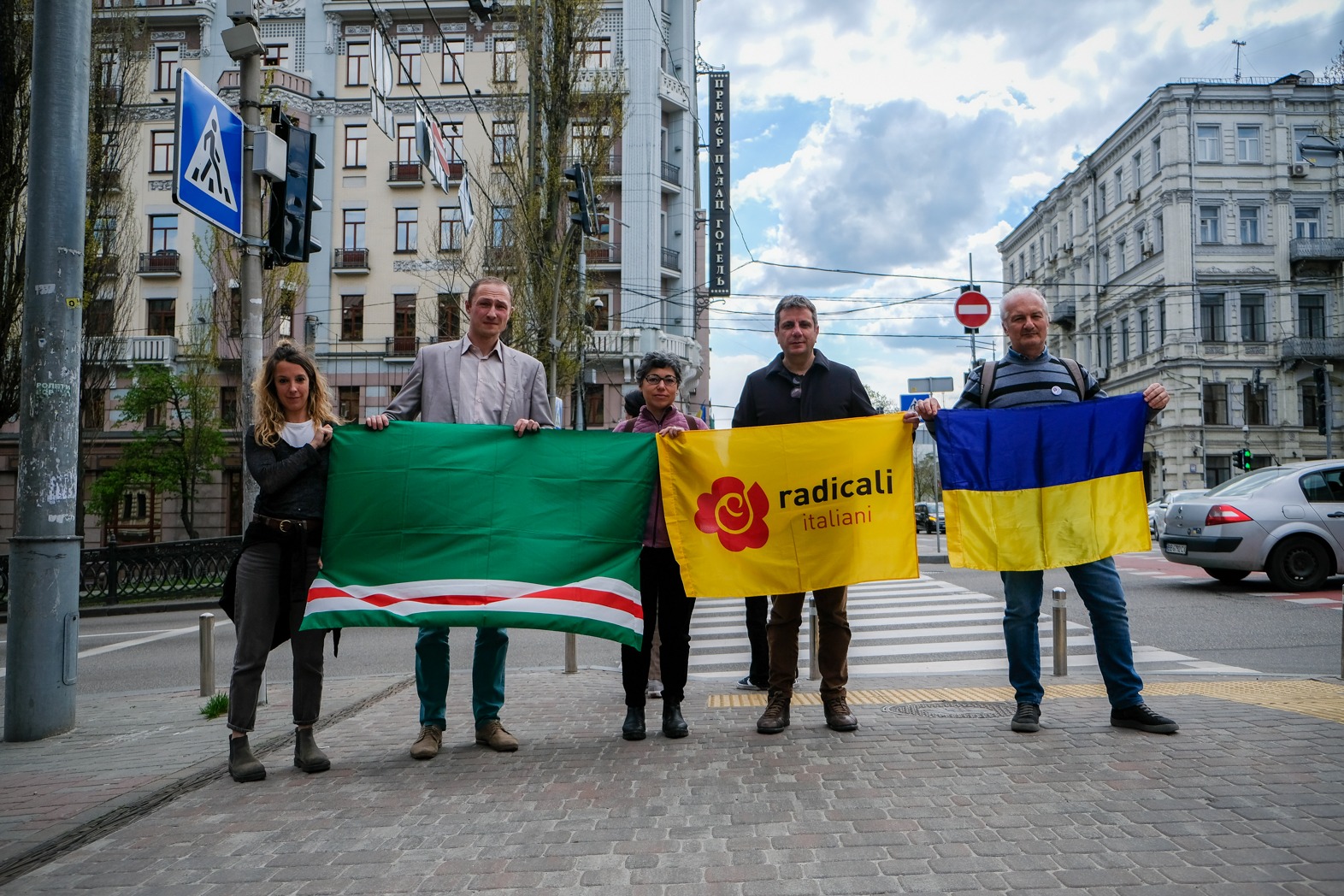 Fitta agenda di appuntamenti oggi per la delegazione di Radicali Italiani da ieri a Kyiv. Incontri con rappresentanti del governo, Ong e console ceceno. 
Nella mattinata due importanti incontri informali con Ihor Lossovskyi, vice capo del Servizio di Stato per gli Affari Etnici e la Libertà di Coscienza e Dimitri Volovnykiv, diplomatico del Ministero degli Affari Esteri, ufficio del consigliere del Presidente Zelensky.
Sono poi seguiti gli incontri con Yuriy Shulipa, console onorario della Repubblica Cecena di Ichkeria, da poco riconosciuta ufficialmente dall'Ucraina e con Arthur Kharytonov, leader della Lega Liberal-Democratica di Ucraina e coordinatore del Free Hong Kong Center.
Infine si è tenuto un lungo meeting con la ONG The Media Initiative for Human Rights, in particolare con la co-fondatrice Olha Reshetylova, coordinatrice della direzione "War and Justice" per discutere dei passi avanti circa il riconoscimento dei crimini commessi dal Cremlino in Ucraina e l'impegno della Corte Penale Internazionale.
Infine uno dei principali canali televisivi ha dedicato un ampio spazio in diretta all'iniziativa di Radicali Italiani intervistando gli esponenti in studio.
Massimiliano Iervolino, Giulia Crivellini e Igor Boni, segretario, tesoriera e presidente di Radicali Italiani hanno dichiarato: "L'accoglienza che abbiamo ricevuto da parte degli esponenti del governo ucraino, delle Ong, degli organi di informazione e del console ceceno è stata davvero eccezionale.
Il lavoro radicale di questi 20 anni è conosciuto e riconosciuto. Il console ceceno, incontrato in un sotterraneo di un locale con la luce che è andata via, come accade ancora in città, ci ha chiesto di continuare a sostenere la causa cecena. Proprio in Cecenia Putin ha messo a punto le sue tecniche criminali con distruzioni, uccisioni di massa, città rase al suolo. Abbiamo ribadito in ogni incontro la nostra volontà di portare Putin e tutti i responsabili dei crimini di guerra di fronte alla Corte Penale Internazionale.
Per quanto ci riguarda la commemorazione del 25 aprile deve oggi essere un giorno anche di lotta per dare pieno sostegno alla resistenza ucraina. Per questo martedì terremo una conferenza stampa alle ore 11 (ora italiana, 12 ora locale) a Kyiv, presso l'Ukraine Media Center (8 Khmelnytskoho St) per ribadire che non esiste equidistanza tra aggressore e aggredito e che occorre sostenere la resistenza ucraina contro l'attacco criminale del Cremlino".
23 Aprile 2023
----
Se condividi le nostre lotte sostienile con il 2X1000, scrivi S47 nella dichiarazione dei redditi.
Leggi come: info 2x1000